Coming Soon: THE READING & MORGUE WEEKLY NEWS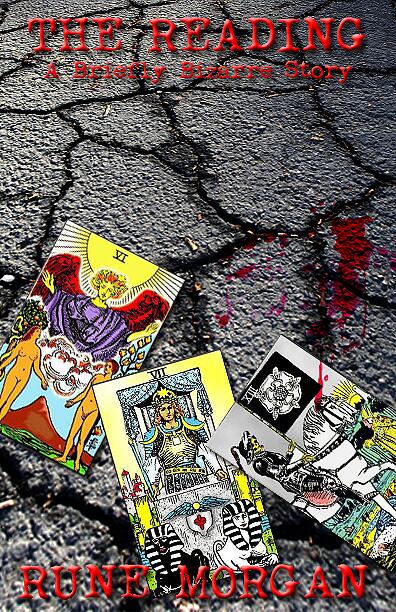 Well fellow horror fans, it's done. The next Briefly Bizarre story has been finished off and is patiently awaiting publication here on Rune Morgan Horror. The Reading is a short little tale that was inspired by all the ironic endings to be found within the countless hours of Twilight Zone episodes I grew up watching and continue to watch to this day. As the title and cover may suggest, it is the tale of a man who ventures into a psychic's office and gets a tarot card reading and encounters the Briefly Bizarre.
The story is to be released on Friday, February the second in PDF format. It will be posted on this site, uploaded to archive.org, and uploaded to box.com. Additionally, I will be trying a new delivery method and sending a link to it via direct messaging to my followers on Twitter and I will be setting up an email subscription list so my readers can get stories delivered straight to their inbox.
That said, it's time for me to once again remind you all that I have ad space available within this publication and the rates are relatively low. Two quarter page ad spots (2.75″x4.25″) are available within the body of the story for only $5. One half page ad spot (5.5″x4.25″) is available under the "About the Author" page for only $10. And two full page spots (5.5″x8.5″) are available on equivalents of the inside front and outside back covers for only $20. Once purchased, these ad spots are yours permanently as though you had placed them in a print magazine. Also, these ads must remain in the document if the reader chooses to redistribute it to fellow horror fans.
CLICK HERE TO GO TO THE ADVERTISING PAGE.
Another announcement that I'd like to make, though I will not go into too much detail at this time, is that I have a new site going up that will feature another weekly publication. Morgue Weekly News is a horror news site and publication like none I have ever seen before. The site is registered through WordPress and, over the next couple days, I will be working on it and getting it ready for viewers. Expect more news on this throughout the week.
Short post today, but it's Follow Friday on Twitter and I would be remiss if I didn't give shoutouts to all the wonderful horror fans, creators, writers, directors, and musicians that choose to follow me.
Horribly yours,
Rune Morgan